Description
3D Canine Anatomy software. Biosphera's innovative 3D software demonstrates the various internal systems of a virtual German Shepherd dog. The software is designed with students, teachers, veterinary clinics and pet shops in mind and allows the dog's internal systems to be viewed layer by layer. A single layer can be viewed or multiple layers can be viewed simultaneously. All layers can be viewed from all angles and at various zoom levels.
(Click here for a list of the available anatomical components)
The software is available in English, Portuguese, French, German, Spanish, Japanese and Latin.
+ The video below refers to version 1.1, click here to see all updates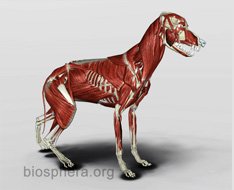 Specs


Current version:
1.93
File format:
.exe installer for Windows PC and .app zipped for Apple OSX
File size:
36.9 mb for Windows PC / 49.6 mb for Apple OSX
Important:
The Software is intended to be a supplemental educational resource and should NOT be used as the only source of educational information, nor should the Software be used as medical/veterinary advice or for medical/veterinary diagnoses.

» The software is compatible with Apple Mac OSX 10.8 or above and Windows XP/Vista/7/8/8.1/10
» The link to download the software and the serial number will be sent by email after payment approval
» Each software license can be used on one computer for one user
» The software requires an internet connection in the first run and runs offline from then on
» Languages: English, Portuguese, French, Japanese, German, Spanish and Latin
» Touchscreen support for the Windows version
» Support is available in English and Portuguese only
+ Free Updates
List of all structures of the software
the strutures with * have images – click to view
This version of the software runs on desktops and notebooks
Versions for mobile devices can be purchased separately: